UPDATE 05/07/18: Reports that Amazon is advising publishers of takedown notices are circulating online. Please note that there are TWO KINDS of takedown notice Amazon can get, and then advise sellers of. The first is a copyright takedown, often referred to as a DMCA Notice (though there are other kinds.) The second is a trademark takedown, often referred to as a Brand Registry takedown (though there are other kinds.) THEY ARE NOT THE SAME. Sending a DMCA counter-notice in response to a trademark takedown will be ineffective. Brand Registry notices can be very difficult to deal with. I recommend anyone who wants to fight one retain an experienced trademark attorney.
FLASH UPDATE: Retired IP litigator and author Kevin Kneupper has filed a Petition for Cancellation of the "COCKY" standard character mark. Link to his filing here: https://twitter.com/kneupperwriter/status/993359859071381505. The petition will now be considered in due course by the Trademark Office. We should not expect to hear anything for a few weeks, and the matter could take months to resolve. But in the meantime the registration stands and the risks remain.
Please Note: As I type, this appears to be a developing situation. The trademark in question was registered literally only three days ago. I have not seen any of the C&D letters people are alleging are going out. Nothing in this post should be taken as legal advice or even as verified fact. This is for general education only.
Also please note that the Romance Writers of America, an industry group, is allegedly also looking into this matter. They will probably provide a centralized response. Author Liliana Hart reports that the RWA requests that people who are contacted by Ms. Hopkins or her attorneys contact Carol Ritter of the RWA at this email: carol.ritter@rwa.org
If you get a cease and desist letter or any other form of legal communication, you may find my "HELP, I JUST GOT A LEGAL THING!" post useful. Click here to read it.
UPDATE: I did not see that the publisher had two trademark registrations, one for the standard character mark, and one for the stylized mark. Post edited accordingly.
Now on with the post.
This evening I started seeing tweets like this one:
There's a romance author, Faleena Hopkins, who is sending takedown notices to other romance authors because she thinks she has a trademark on the word "Cocky." Which she doesn't have, but is hoping her threats make people change their titles.

— Christopher Sebela (@xtop) May 5, 2018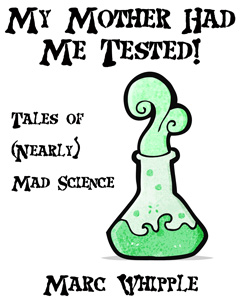 So, first, to get it over with: I wrote a book. It's called My Mother Had Me Tested! and it's a collection of funny mad science/geek-related short stories. Please have a look. If you think you might enjoy it, please read the free sample. If you still think you might enjoy it, please buy it. Here's the link: http://amzn.com/B00WFV3YZU
Okay? Okay.
Now that the plug is done – and I would never suggest that you should buy my book to make the rest of this post easier to follow, no way, not for a minute – I'm going to go over some of the potential legal issues involved with the publication of my book, My Mother Had Me Tested!. (Okay, I'll stop now. From here on out it's just MMHMT, and no more links. Promise. 🙂 )
Also, please keep in mind that nothing in this post is intended to be legal advice. I am reviewing my own work and pointing out generally interesting issues regarding it. My goal is not to provide specific answers to legal questions, but show examples of how one might approach these issues, and help you to be more aware of the potential for liability which your own creative endeavors might create. Always consult an attorney licensed in your jurisdiction and familiar with the relevant law *ahem* before making legal decisions.
Okay? Okay.
On with the review!
ISSUE ONE: COVER ELEMENTS
This one's easy. I licensed the cover illustration from an online stock photo company called CanStockPhoto. They have a required copyright disclaimer: I included it. The font I used I found online and, after review, I decided that my usage of it for this purpose was acceptable. (Digital font files, by the way, can be copyrighted. Generally speaking, type itself cannot.) There's no visible person, actual or not, so I don't have to worry about a likeness release. (More about use of likeness below.) If there were, I'd need one or need to make sure the person I licensed the photo from had one. Stock Photo sites usually make this clear – if it's marked "editorial," you probably shouldn't use it for commercial purposes. If it's not, it's probably released, but you should still check. If you commission a cover photo or illustration, make sure your artist provides a likeness release as well as a copyright license if necessary.
Finally, I made the cover myself, so I didn't have to worry about the copyright on the assembled elements. If I'd had an artist do it for me, I'd have needed a copyright license, but I didn't, so I didn't. Next question!